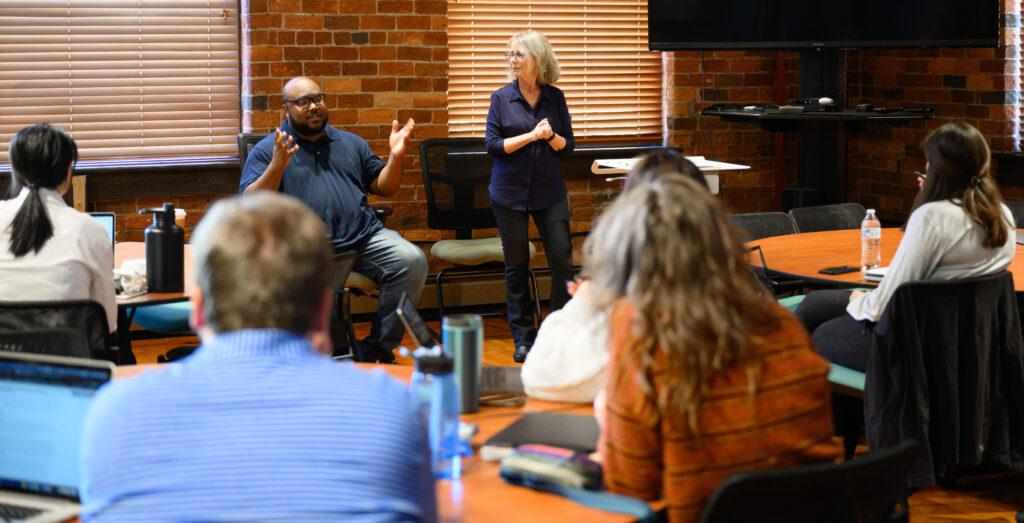 Chris Everett (Fall 2022-Spring 2023)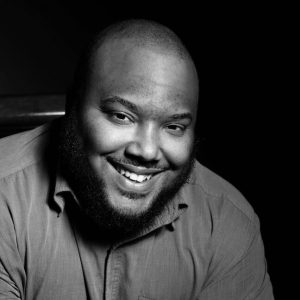 Chris Everett is the Program Manager of Southern Documentary Fund and a film director and producer, social media specialist, and graphic artist. He founded the creative studio Speller Street Films in 2015, while directing and producing his first feature-length documentary, WILMINGTON ON FIRE. Everett combines his love for history and visual storytelling in this award-winning film to chronicle the Wilmington Insurrection of 1898. He was recently selected for Firelight Media's Documentary Lab 2021-2022 fellowship for his upcoming martial arts documentary, GRANDMASTER, and is currently wrapping production on the sequel to WILMINGTON ON FIRE, WILMINGTON ON FIRE: CHAPTER II.
---
Rebekah Fergusson (Fall 2022-Spring 2023)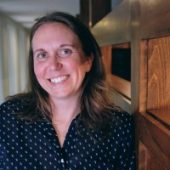 Rebekah Fergusson is a documentary producer with a passion for character-driven stories. Her experience includes cinematography, line producing, impact producing, and post production supervising. She has produced long form documentaries for Netflix, ITVS, HBO and Fox Sports that have premiered at major film festivals and been nominated for Academy Awards, Sports Emmys and Webbys. Her credits include: Academy Award nominated films Crip Camp (2020) and End Game (2018), Fox Sports documentary Q Ball (2019), and the Academy Award short-listed HBO documentary The Case Against 8 (2014). She is a 2021 Impact Partners Producing Fellow, an active member of the Documentary Producers Alliance (DPA), and is based in Durham, NC
---
Safyah Usmani (Spring 2023)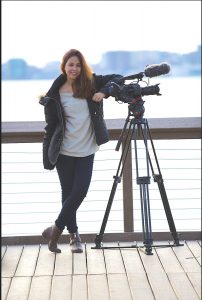 Safyah Zafar Usmani (MFA '15), a Pakistan based Director/Producer/Writer works on creating socially motivated content to foster discourse on the rights of marginalized individuals. She uses her work to explore the concept of identity – how it is shaped and its correlation to one's status in the society. Her film, A Life Too Short, released by MTV documentary films, made DOC NYC's 2020 Short List which showcases a selection of features and shorts the festival's programming team considers to be among the year's strongest contenders for Oscars and other awards. Usmani also received two Daytime Emmy nominations for Fundamental: Gender Justice, No Exceptions. Co-produced by Usmani and Shahrukh Waheed and directed by Sharmeen Obaid-Chinoy, the five-episode international documentary series was nominated in the categories of Outstanding Short-Form Daytime Non-Fiction Program and Outstanding Directing Team for a Single-Camera Daytime Non-Fiction Program. Having worked in half a dozen countries over the last few years, Usmani has immense exposure in the international market in addition to maintaining an impressive understanding of stories from Pakistan. She has produced and directed across many formats- including TV Soap Operas, TV Commercials, Digital Video Commercials, Music Videos, Public Service Messages and Documentaries – to tell stories related to honor killing, child marriages, abortion rights, LBTQI issues, racial injustice, rape survivors and right to quality education.
Natalie Bullock-Brown (Spring 2022)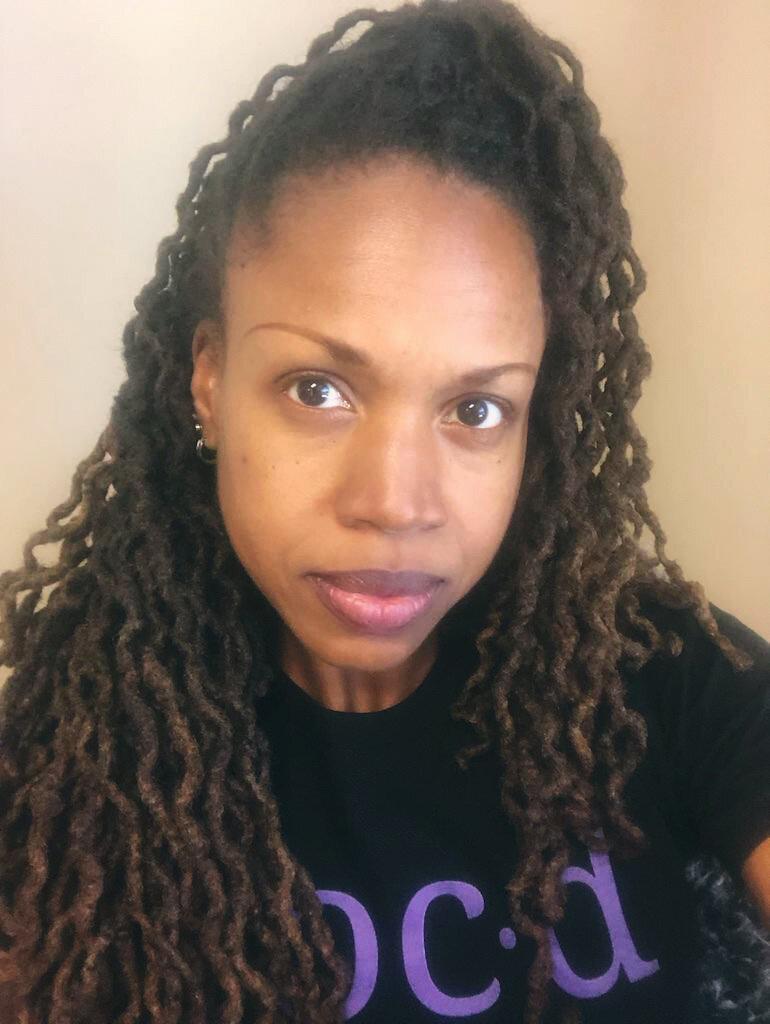 Natalie Bullock Brown is a teaching assistant professor at North Carolina State University, and a documentary filmmaker. She is currently working on her first feature length documentary film as a director, which explores the white beauty standard and its impact on Black women and girls. She is also a producer for award-winning filmmaker Byron Hurt's upcoming PBS documentary, HAZING. Natalie is a contributor and guest for the monthly program #BackChannel, for which she provides pop culture on WUNC radio's The State of Things. She also serves as strategist for the organization Working Film's StoryShift initiative, which develops praxis and best practices for ethical, accountable documentary storytelling..
---
Hemal Trivedi (Fall 2021)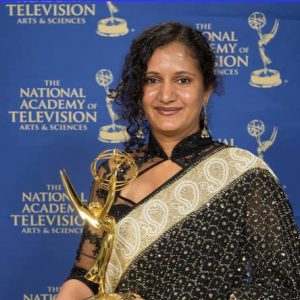 Award-winning director and editor Hemal Trivedi will return to the DFP on September 30th to screen her film Battleground and share her storytelling expertise and editing techniques with the DFP students.
Battleground offers is an intimate exploration of the state of our democracy as seen through the eyes of two opposing grassroots political leaders in Lehigh Valley, Pennsylvania – a pivotal county that voted for Obama twice and then flipped to Trump in 2016. Over the course of three years, the film shows their primary struggle was not against each other, but against the political machines that control their respective parties.
Trivedi's work as a filmmaker and editor has been recognized with one Oscar and three Emmy wins and seven Emmy nominations. Her work has been showcased in major film festivals including Sundance, Tribeca, and IDFA and broadcast on Netflix, HBO, and PBS (Frontline and Independent Lens). Trivedi's critically acclaimed film Among the Believers, which premiered at the Tribeca film festival, was ranked as one of the top documentaries of 2015.
---
Monica Berra (Fall 2020)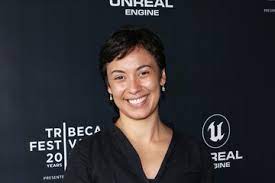 Monica Berra currently works as a producer with the award-winning Kunhardt Films. She recently served as producer of A Choice of Weapons: Inspired by Gordon Parks, which traces the stellar career of iconic portrait photographer and filmmaker Gordon Parks. The film debuted at the prestigious Tribeca Film Festival in 2021 and is distributed by HBO films. She previously worked as an archival producer with Vox, and as a producer and outreach coordinator for Firelight Media, which is headed by acclaimed filmmaker Stanley Nelson. Berra's work has been featured on PBS, WORLD Channel, New York Times Op-Docs, Field of Vision, and The Atlantic. Berra is a DFP alum and her 2016 thesis film (co-directed with Gini Richards and SheRea DelSol), SOUL CITY, screened at 25+ film festivals worldwide, and earned numerous Best Short Documentary awards during its run.
---
Tina Thornton (Spring 2020 & 2018)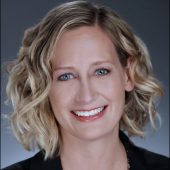 Tina Thornton – who joined ESPN directly out of college in 1993 – was named senior vice president, content operations in November 2020. Thornton added to her already vast portfolio ESPN's remote operations team – responsible for more than 4,000 remote events annually, leadership of ESPN's Directing team – including all directors, set design and lighting, and oversight of a newly formed centralized creative team. The ESPN Creative Studio brings together creative groups from across ESPN as storytellers through design, graphics, animation, music, editing and branded content. Thornton continues to oversee several additional business units at the company; ESPN Next – a dynamic career development program for employees across our content division, the content integration & synergy solutions group – producing strategic integrated opportunities between ESPN and TWDC, and production's management operations team, made up of production management, production scheduling and business/personnel operations.
---
Angus MacLachlan (Spring 2019)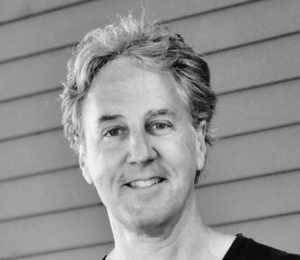 Artist-in-Residence Angus MacLachlan has written numerous plays, an 18-minute short film, Tater Tomater, directed by Phil Morrison, and the award-winning feature Junebug, which was selected for the Dramatic Competition for the 2005 Sundance Film Festival, and won a Special Jury Citation for Amy Adams, as well as her first Academy Award nomination. MacLachlan was nominated for an Independent Spirit Award for 'Best First Screenplay', and 'Best Screenplay' by the Washington Area Film Critics, and won 'Best Screenplay, 2005' from the International Cinephile Society. The film was listed on over 50 Top Ten lists. His other screenplays include Stone, starring Robert Deniro, and Förtroligheten, which won the Golden Goblet for Best Screenplay at the 2013 Shanghai International Film Festival. In 2013 he wrote and directed Goodbye to All That. The film debuted at the 2014 Tribeca Film Festival, was nominated for Best Narrative Feature and won Best Actor for Paul Schneider. It was released by IFC and was chosen one of the Ten Best Films of 2014 by Brandon Harris of Indiewire/Filmmaker magazine. Most recently, he wrote, directed, and produced Abundant Acreage Available, starring Amy Ryan. Martin Scorsese served as Executive Producer. The film was the winner of best screenplay at the Tribeca Film Festival. The film was the winner of the Best Screenplay at the 2017 Tribeca Film Festival.
---
Ross Kauffman (Fall 2018)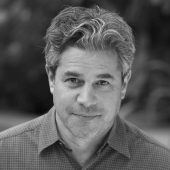 Ross Kauffman is the Academy Award-winning director, producer, cinematographer and co-editor of Born Into Brothels, which won the Oscar for Best Documentary 2005 as well as the Emmy for Best Documentary 2005. The film's accolades include National Board of Review Best Documentary 2004, LA Film Critics Best Documentary 2004 and the 2004 Sundance Film Festival Audience Award. With Katy Chevigny, Ross co-directed E-Team, an award-winning NetFlix feature documentary about Human Rights Watch emergency investigators. Ross executive produced the award-winning documentary In A Dream (directed by Jeremiah Zagar)and was a producer of Academy Award-nominated Postergirl. Ross is regarded as a top documentary cinematographer and has worked on projects such as PBS's Half the Sky and Morgan Spurlock's Comicon. Ross has shot, directed and edited short documentaries and branded content for DB Productions since 2009.
---
---
Diane Hodson (Fall 2018)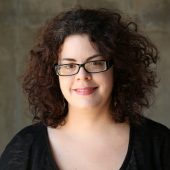 Hodson graduated from the DFP in 2015. Her thesis film unmappable,co-directed with Jasmine Luoma, premiered at the New Orleans International Film Festival and received the Programmer's Award for Artistic Vision. Described as "thought-provoking and disturbing" by Wired magazine, the film was an official selection at a number of film festivals including SXSW, Dokufest, Sidewalk and Indi Grits where it earned the Young Grit Award. More recently, Diane served as a producer and archival researcher on Missing Richard Simmons and Heaven's Gate podcasts. In addition, Diane and Jasmine Luoma are teaming up again on The Million-Dollar Block. The documentary feature film shot inside the notorious Van Dyke housing project in Brownsville, Brooklyn, explores the intersection of mass incarceration and public housing.
---
Kimberly Reed (Fall 2018)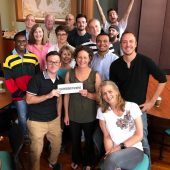 Kimberly Reed's work has been featured on the Oprah Winfrey Show, CNN, NPR, The Moth, and in Details Magazine. One of Filmmaker Magazine's "25 New Faces of Independent Film," she directed/produced Prodigal Sons, a "whiplash doc that heralds an exciting talent." Prodigal Sons (First Run Features, Sundance Channel) landed on many Best of the Year lists, screened at more than 100 film festivals, and garnered 14 Audience and Jury awards, including the FIPRESCI Prize. Ms. Reed was recognized as one of OUT Magazine's "Out 100," and as Towleroad's "Best LGBT Character of the Film Year." She also produced/edited/wrote Paul Goodman Changed My Life (Zeitgeist Films), and produced The Death and Life of Marsha P. Johnson (Netflix).
---
Robert Lipsyte (Spring 2018 & 2017)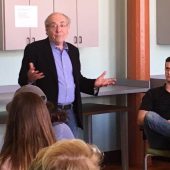 Robert Lipsyte was an award-winning sportswriter and columnist for the New York Times, an Emmy-winning host of the nightly public affairs show The Eleventh Hour and former Ombudsman for ESPN. He is the author of twelve acclaimed novels for young adults and is the recipient of the Margaret A. Edwards Award honoring his lifetime contribution in that genre.
---
Inbal Lessner (Fall 2017)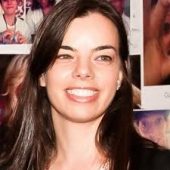 Emmy-nominated producer and editor Inbal Lessner has worked in non-scripted television, documentary series, documentary feature and narrative films. She produced and edited Brave Miss World, which premiered at AFI Docs and was launched as a Netflix exclusive in 2014. The film received an Emmy nomination for Exceptional Merit in Documentary Filmmaking. Lessner spoke to the students about her career path and offered a workshop on archival editing.