Ross Kauffman (Fall 2018)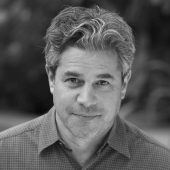 Ross Kauffman is the Academy Award-winning director, producer, cinematographer and co-editor of Born Into Brothels, which won the Oscar for Best Documentary 2005 as well as the Emmy for Best Documentary 2005. The film's accolades include National Board of Review Best Documentary 2004, LA Film Critics Best Documentary 2004 and the 2004 Sundance Film Festival Audience Award.  With Katy Chevigny, Ross co-directed E-Team, an award-winning NetFlix feature documentary about Human Rights Watch emergency investigators. Ross executive produced the award-winning documentary In A Dream (directed by Jeremiah Zagar) and was a producer of Academy Award-nominated Postergirl. Ross is regarded as a top documentary cinematographer and has worked on projects such as PBS's Half the Sky and Morgan Spurlock's Comicon. Ross has shot, directed and edited short documentaries and branded content for DB Productions since 2009.
---
Diane Hodson (Fall 2018)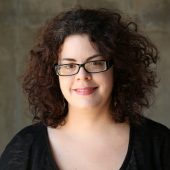 Hodson graduated from the DFP in 2015. Her thesis film unmappable,co-directed with Jasmine Luoma, premiered at the New Orleans International Film Festival and received the Programmer's Award for Artistic Vision. Described as "thought-provoking and disturbing" by Wired magazine, the film was an official selection at a number of film festivals including SXSW, Dokufest, Sidewalk and Indi Grits where it earned the Young Grit Award.  More recently, Diane served as a producer and archival researcher on Missing Richard Simmons and Heaven's Gate podcasts.  In addition, Diane and Jasmine Luoma are teaming up again on The Million-Dollar Block. The documentary feature film shot inside the notorious Van Dyke housing project in Brownsville, Brooklyn, explores the intersection of mass incarceration and public housing.
---
Kimberly Reed (Fall 2018)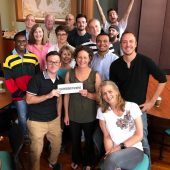 Kimberly Reed's work has been featured on the Oprah Winfrey Show, CNN, NPR, The Moth, and in Details Magazine. One of Filmmaker Magazine's "25 New Faces of Independent Film," she directed/produced Prodigal Sons, a "whiplash doc that heralds an exciting talent." Prodigal Sons (First Run Features, Sundance Channel) landed on many Best of the Year lists, screened at more than 100 film festivals, and garnered 14 Audience and Jury awards, including the FIPRESCI Prize. Ms. Reed was recognized as one of OUT Magazine's "Out 100," and as Towleroad's "Best LGBT Character of the Film Year." She also produced/edited/wrote Paul Goodman Changed My Life (Zeitgeist Films), and produced The Death and Life of Marsha P. Johnson (Netflix).
---
Robert Lipsyte  (Spring 2018 and 2017)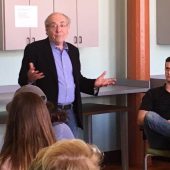 Robert Lipsyte was an award-winning sportswriter and columnist for the New York Times, an Emmy-winning host of the nightly public affairs show The Eleventh Hour and former Ombudsman for ESPN. He is the author of twelve acclaimed novels for young adults and is the recipient of the Margaret A. Edwards Award honoring his lifetime contribution in that genre.
---
Inbal Lessner (Fall 2017)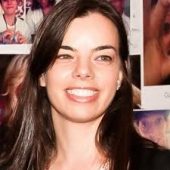 Emmy-nominated producer and editor Inbal Lessner has worked in non-scripted television, documentary series, documentary feature and narrative films. She produced and edited Brave Miss World, which premiered at AFI Docs and was launched as a Netflix exclusive in 2014. The film received an Emmy nomination for Exceptional Merit in Documentary Filmmaking. Lessner spoke to the students about her career path and offered a workshop on archival editing.
---
Hemal Trivedi  (Fall 2017)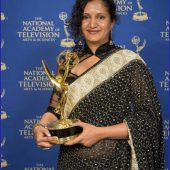 Trivedi's work as a filmmaker and editor has been recognized with one Oscar and three Emmy wins and seven Emmy nominations.   Her work has been showcased in major film festivals including Sundance, Tribeca, and IDFA and broadcast on Netflix, HBO, and PBS (Frontline and Independent Lens). Trivedi's critically acclaimed film Among the Believers, which premiered at the Tribeca film festival, was ranked as one of the top documentaries of 2015.   Among the Believers screened in over 50 film festivals in 25 countries and won 12 awards including an Independent Spirit Award nomination.