Award Winning MFA Film to Screen at Wake Washington Center
Main Content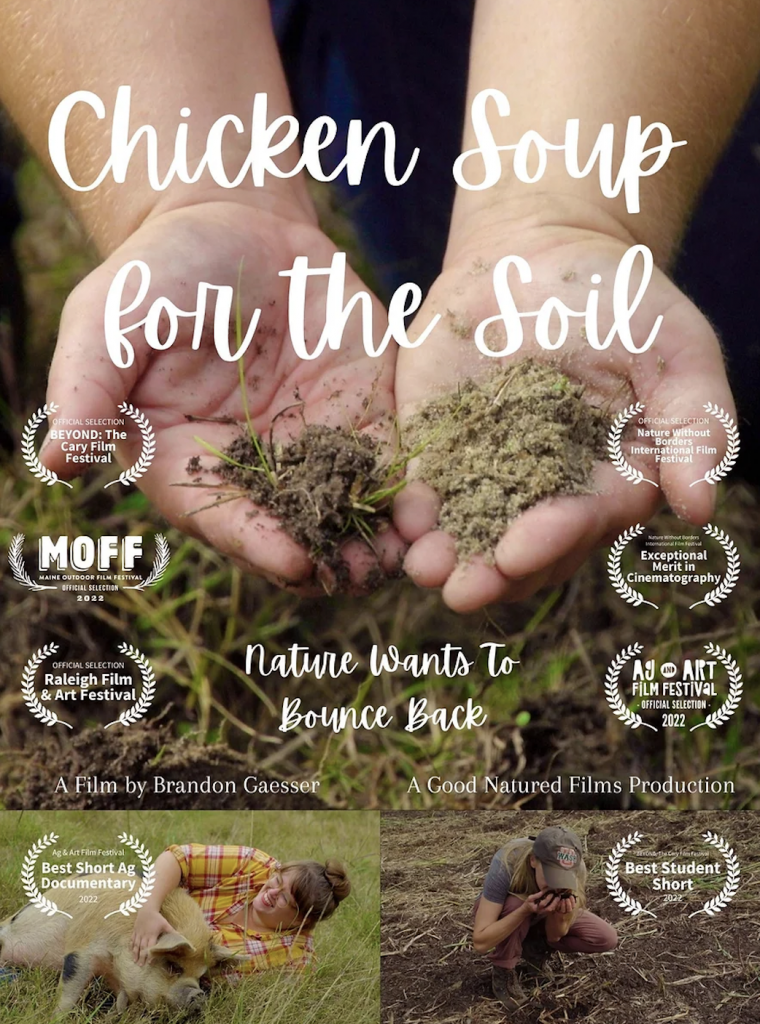 Brandon Gaesser (MFA '21) brings his award-winning film, Chicken Soup for the Soil, to the Wake Washington Center on Tuesday, November 1 at 6:30 p.m. for a screening and panel discussion.
Chicken Soup for the Soil follows the journey of two North Carolina regenerative farmers, Rachel Herrick of Slow Farm and Suzanne Nelson Karreman of Reverence Farms, as they work to rehabilitate farm soil ecosystems one pasture at a time. Regenerative farming tries to reverse the harms of conventional agriculture, which through tilling and pesticide use destroys the microbes and other organisms that make soil alive. Gaesser says Washington DC is the perfect place to screen a film that focuses on the efforts of everyday family farmers to help restore their land.
I cannot overstate the benefits of screening the film and having a panel discussion in Washington, D.C. As Slow Farm owner Rachel Herrick points out in the film, it is difficult for agencies like the USDA to quantify the success of regenerative farming. Even though Indigenous communities have been practicing these agricultural techniques for millennia, and more and more small farmers around the world have been adopting these techniques, awareness of regenerative practices has been slow to trickle up to policymakers. But with regenerative farms showing success in restoring soil health, and the scientific community getting involved to help measure that success from the standpoint of mitigating climate change, I am hopeful that we can start to move the needle on policy.
Wake alum John Toner ('06) of Lemon Tree Productions will moderate a panel discussion with Gaesser, Slow Farm owner Rachel Herrick, and Callie McAdams of Vibranteco following the screening.
The event is co-sponsored by the Wake Forest Graduate School of Arts and Sciences, the Documentary Film Program, the Graduate Program in Sustainability, and the Wake Washington Center.
For more information and to register to attend, click here.