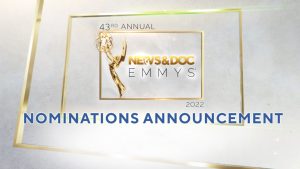 We love it when we see familiar names in the list of Emmy nominees!  Congratulations to David Cassidy, Cabin Creek Films Senior Producer and DFP part time professor, and to DFP alum Monica Berra (MFA '16) on their 2022 News & Documentary Emmy nominations!
Berra served as archival producer on A Choice of Weapons: Inspired by Gordon Parks. Produced by Kunhardt Films and distributed by HBO, the film is a nominee in both the Best Documentary and the Outstanding Arts and Culture Documentary categories.
Cassidy served as senior producer on Desert One, a nominee in the Outstanding Historical Documentary category.  The film was directed by Barbara Kopple and broadcast on the History Channel.
We are thrilled for Monica, David, and all involved in the production of these award worthy films.