Main Content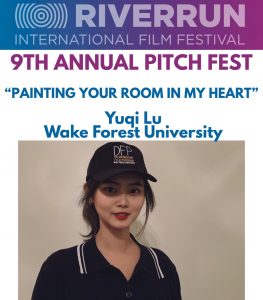 Congratulations to Yuqi Lu (MFA'20) for delivering the winning pitch in the RiverRun Pitch Fest competition!  Due to the COVID-19 outbreak, this year's event was moved to an online format with each participant submitting recorded video pitches to the judges.
Lu pitched her thesis film, Painting Your Room in My Heart.  In awarding Lu first-place honors, the judges remarked on the "strong narrative structure of the pitch itself" and noted the "elegance and polish" of her filmmaking
The event judges were Rachel Raney, Director of National Productions and Executive Producer of Reel South for UNC-TV; Bri Castellini an award-winning independent filmmaker and the Film Community Manager for Seed&Spark, a highly regarded and innovative crowdfunding platform for independent filmmakers; and, David Fenster, whose short and feature films have shown at film festivals, art museums, and media outlets around the world and who currently makes documentaries at Arizona Public Media in Tucson.
Recent Posts
November 19, 2020

November 12, 2020

October 23, 2020