Main Content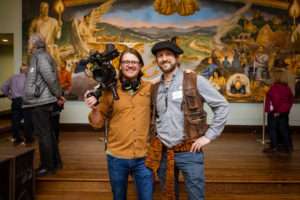 Scenes from Assistant Teaching Professor Chris Zaluski's current documentary project, Holy Chaos, will screen at the North Carolina Museum of Art from March through July as part of the museum's exhibit Contemporary Frescoes/Faith and Community. In addition, the videos will be included on the NCMALearn website, an educational resource provided by the museum for teachers who want to integrate art into their curriculums.
Holy Chaos follows the creation of an unconventional and countercultural fresco mural inside the sanctuary of a homeless church in Asheville, North Carolina.  From first sketch to final unveiling, the viewer will experience the highs and lows of the creative process with the fresco's principal artist Christopher Holt, while also meeting those he depicts in the mural – people battling homelessness, addiction, and mental illness.
Zaluski has received numerous grants for the film, including the Filmed In NC/Cucalorus Grant, Pilot Research Grant (Office of Research and Sponsored Programs, WFU), Provost's Grant for Academic Excellence (Provost's Office, WFU), and Susan and Gene Goodson Faculty Development Fund (Office of the Dean of the College, WFU).
The film is scheduled to be finished by late 2020.  For more information, visit www.HolyChaosFilm.com.
Recent Posts
August 10, 2020

August 10, 2020

June 14, 2020