Main Content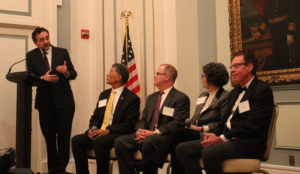 An invited screening of Five Minutes, an animated short film produced by DFP faculty about regenerative medicine and war, was hosted by The Wake Forest University Graduate School of Arts and Sciences, The Wake Forest Institute for Regenerative Medicine, The Documentary Film Program and the Wake Washington Center at the Army and Navy Club in Washington, DC on Wednesday, February 26.
The film was introduced by The Honorable Robert Wilkie ('85), Secretary of Veterans Affairs and the panel discussion on the hope of regenerative medicine for U.S. soldiers was moderated by Dr. Anthony Atala, Director, Wake Forest Institute for Regenerative Medicine.  The panelist MG Joseph Caravalho, Jr., MD, (USA, Retired) President and CEO, Henry M. Jackson Foundation, The Honorable Thomas McCaffrey, Assistant Secretary of Defense for Health Affairs,  Dr. Terry M. Rauch, Acting Deputy Assistant Secretary of Defense for Health Readiness, Policy and Oversight and Dr. Sandy Dickson the co-director of Five Minutes, discussed the challenges wounded warriors and their families face, current regenerative medicine therapies for wounded soldiers, and the need to support the medical and scientific research that will advance physical and mental health treatments.
Five Minutes was directed, produced and edited by Wake Forest University faculty members Sandy Dickson, Peter Gilbert, Michael Hyde, Chris Zaluski and Cara Pilson and illustrated by award-winning artist Cory Godbey.
Recent Posts
August 10, 2020

August 10, 2020

June 14, 2020