Main Content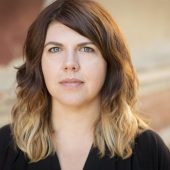 The DFP will host a lunchtime "Meet the Filmmaker" session with Jessica Devaney, co-director of Love the Sinner, on Thursday, October 5.  Love the Sinner is a short documentary that explores the Evangelical roots of homophobia in the wake of the Pulse shooting.
Devaney will speak to DFP students about her experience directing the film and her work as a producer and communications strategist.  She recently produced Speed Sisters (2015), which follows an intrepid team of Palestinian women racecar drivers.  Devaney co-produced the Peabody Award winning short My Neighbourhood (2012) and produced its companion web series Home Front (2011). She associate produced Budrus (2009), which won over a dozen international awards, including the Ridenhour Documentary Film Prize. Devaney is a 2016 Women at Sundance Fellow, founder of the Queer Producers Collective and the former Director of Communications at Just Vision.
The lunch session with Devaney will be hosted at noon in Room 302B.  A screening of Love the Sinner and a panel discussion hosted by the Department of the Study of Religions and Pro Humanitate Institute will take place on Thursday evening at 6:00 p.m. in Annenberg Auditorium, Carswell Hall.
Recent Posts
August 10, 2020

August 10, 2020

June 14, 2020