Main Content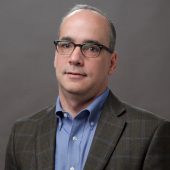 It is with great pleasure that we announce that award-winning journalist, content creator and media executive Chris Sheridan is joining the DFP as an Associate Teaching Professor.
Sheridan comes to the DFP after building and leading content teams at ESPN, CNBC, NBC and ABC.  In addition to supervising editorial content, he helped these networks adapt to the digital space by leading the digital video team at ESPN, launching the SportsCenter social media experience andThe CNBC Digital Workshop, and running abcnews.com
"We were very impressed with Chris this year as a Visiting Instructor and we are delighted that this hire will allow our students to continue to benefit from his digital media expertise, his leadership skills and his industry connections. We are particularly excited about the role he will play in helping us build a more robust student internship program," said DFP Program Director, Cara Pilson.
Sheridan will teach courses in sports and digital media, provide internship supervision to DFP students and assist in curriculum development.
"The opportunity to come to a place like Wake, and help build a new sports media and storytelling program that reflects all of the changes going on in the sports media landscape these days was too good to pass up. I can't wait to see where this goes," said Sheridan.
Sheridan is a graduate of the S.I. Newhouse School of Public Communication at Syracuse University, received a Masters from the University of Missouri, and a Certificate in Sports Business Operations from New York University.
Recent Posts
August 10, 2020

August 10, 2020

June 14, 2020